A Dictionary of Public Health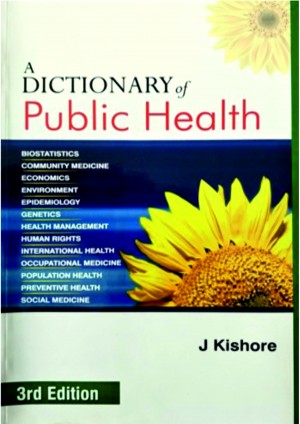 About the book
This book is reviewed in a BMJ group of journal "Journal of Epidemiology & Community Health" as one of the unique masterpiece in Public Health. It has thousands of words which are explain in a lucid and understandable language.


"This is a comprehensive collection, compilation, interpretation and definition of public health vocabulary. It encompasses various disciplines and related fields including Epidemiology, Statistics, Social Sciences, Demography & Population Sciences, International Health, Occupational and Environmental Medicine, Health Planning, Mental Health, Community Medicine, Preventive Medicine, etc. The book includes terms related to a great variety of subjects and disciplines which are supported by recently updated bibliographical references. It lucid language and description with examples make this dictionary, easy to read and manage despite its length and large number of definitions..."
Isabel Ruiz Perz
Andalusian School of Public Health, Granada, Spain.
Because of its
popularity
the author has revised three times. Now it is more comprehensive and inclusive of all disciplines related to public health. The students and
faculty
of public health, community medicine, social medicine, health
management
, bio statistics, population sciences will be largely benefited.