Indian Journal of Holistic Nursing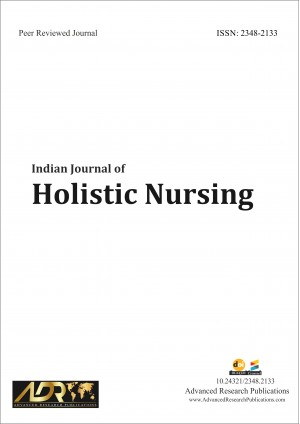 Bibliographic Information
| | |
| --- | --- |
| IC Value: | (2018) 38.22 |
| Publishing Year: | 2006 |
| Origin: | India |
| Language: | English |
| Abstracting and Indexing Information: | Index Copernicus International, ISA, Google Scholar, DRJI, ESJI, Jour informatics, SIS, BASE, IFSIJ, JSTOR, Infobase index, OAJI. |
About the journal
There have been tremendous worldwide developments and advancements in Medical Sciences, which have new vistas for people for people to receive the best possible life saving treatment. On the other hand, there are equally rapid developments in nursing discipline. These intervention, nursing research and theories and nursing education system. Indian Journal of Holistic Nursing aims at providing a forum for exchange of ideas, innovations, research outcomes and their implications, methodology, best practices in nursing and developments in the field of nursing and medical technologies.
IJOHN has four sections: conceptual articles, research briefs, case studies, reports and reviews of event. This Journal is guided by an advisory board from the field of nursing. It is now published in January and July every year by Holistic Nursing and Healthy Society.
Acknowledgement and Appeal
The Editorial team of Indian Journal of Holistic Nursing appreciates Directors, Principals and faculty of various colleges and schools of Nursing and Nurses for their trust in IJHN and for their support by taking membership. Special thanks are due to all the writers who are taking much effort to contribute IJHN. We appeal all concerned to become members of IJOHN to grow professionally and act as towers of strength for publishing IJHN.