International Journal of Nursing & Midwifery Research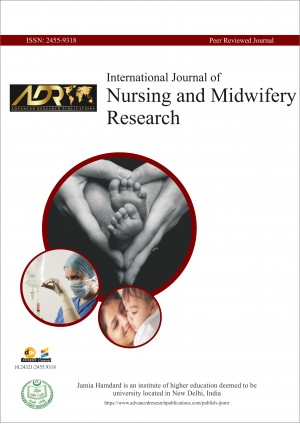 Bibliographic Information
| | |
| --- | --- |
| IC Value: | (2018) 84.87 |
| Publishing Year: | 2014 |
| Origin: | India |
| Language: | English |
| Abstracting and Indexing Information: | Index Copernicus International, ISA, Google Scholar, DRJI, ESJI, Jour informatics, SIS, BASE, IFSIJ, JSTOR, Infobase index, OAJI. |
About the journal
The International Journal of Nursing & Midwifery Research is a bi-annual, peer – reviewed international journal circulated globally. It is a print and e-journal, which covers all the aspects of the research work going on in the field of Nursing Profession.
Focus and Scope includes:
Research and Review Articles
Concept Articles
Case Studies
Clinical Studies
Short Communications
Undergraduate Section
Activities
Announcements
The papers published in the journal covers from the following fields of Nursing:
Advanced Nursing Practice
Child Health Nursing
Community Health Nursing
Medical Surgical Nursing
Mental Health Nursing
Midwifery and Gynecological Nursing
Nursing Education
Nursing Administration and Management
Allied Health Discipline All the papers are ensured for their high quality scientific standards, originality and relevance in the current era. The editorial board is committed to build the journal as one of the leading journals in the field of Nursing and Midwifery. It is intended to put forward this journal to all those concerned with research in various fields of Nursing, Medicine and Allied Health Disciplines.
Objectives of the Journal
To provide a platform to all nurse professionals for the dissemination of research for the promotion of evidence based practice.
To imbibe the importance of documentation of research and non-research work among nurse professionals.
To promote research in the newly emerging areas of nursing including interdisciplinary fields and allied health.
To bring together the working researchers, scholars, resource persons, practioners and student nurses and share their research findings and specific observations with the rest of the world.
To provide a shared platform for research and development in the field of nursing science.
Role of Editor in Chief
To collaborate and co-ordinate between Jamia Hamdard and ADR Publishers regarding policies of publishing the journal
To collaborate with the ADR Publishers for the receipt of the articles
To act as a liaison between authors, editors and reviewers
The final decision to publish a paper in concurrence with section editor and reviewer's opinion is vested upon the Editor – in – Chief
Role of Editor
To collect the articles from the authors and assign reviewers for the same
To follow up the role of reviewers and ADR publishers
To check the conduct of the articles for a final review
To ensure the timely publication of the journal
To ensure the overall timely management of collection of articles, reviews and publications
To organize timely meeting of the committee
Role of Associate Editors
To critically analyze and edit the articles as per the guidelines
To identify, motivate and follow up with the reviewers
To work in close collaboration with the editor
Role of Reviewer
To provide comments on the articles received
To send the articles after review within the stipulated time
Role of Treasurer
To enhance the circulation of the journal
To collect subscriptions
To manage matters pertaining to finance