Journal of Advanced Research in Glass, Leather and Plastic Technology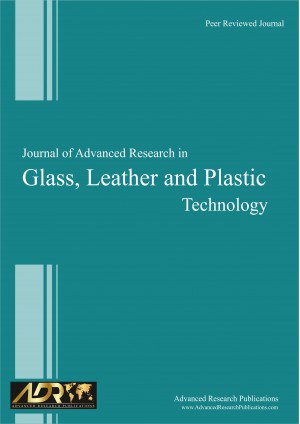 Bibliographic Information
| | |
| --- | --- |
| Publishing Year: | 2018 |
| Origin: | India |
| Language: | English |
| Readership: | Leather Manufacturing Industries, Plastic Manufacturing Industries, Design Engineers, Quality Inspection Units, Marketing Firms, Environmentalists, Conservationists, Pollution Control Agencies, R&D Cells |
About the journal
Journal of Advanced Research in Glass, Leather and Plastic Technology is devoted to the publication of original scientific research findings, methodological developments, and opinions in the form of original and review articles, brief reports, letters to the editor, proceedings of symposia, debates, etc.
The Journal mainly focuses on the allied areas:-
Fundamentals of cloud computing, Innovative Cloud Applications and Experiences, Mobile computing, Green Cloud Computing, High Performance Cloud Computing, Services science foundations for cloud computing, Storage, Data and Analytics Clouds, Cloud computing enabling technology, Cloud computing platforms and applications, Cloud Computing Architectures, Cloud Configuration, Performance, and Capacity Management, Cloud Quality Management and Service Level Agreement, Cloud Resource Virtualization and Composition, Cloud Migration, Cloud DevOps, Cloud Programming Models and Paradigms, Cloud Software Patch and License Management, Cloud Provisioning Orchestration, Cloud Composition, Federation, Bridging, and Bursting, Cloud Workload Profiling and Deployment Control, Autonomic Business Process and Workflow Management in Clouds, Security, Privacy, and Compliance Management for Public, Private, and Hybrid Clouds and more.
A. Glass Technology

B. Leather Technology
C. Plastic Technology
A. Glass Technology
Glass Technology
Glass Fibers
Glass Polymers
Bio-glass
Automotive Glasses
Decorative Glasses
Organic Glasses
Inorganic Glasses
New Inorganic Glasses
Sol-gel Glasses
Low-softening Temperature Glasses
Refractory and Industrial Glasses
Crystallization in Glass
Ceramic and Glass Powders
Coatings Process in Glass
B. Leather Technology
Advancement in Leather Technology
Applications of Leather
New and improved leathers
Leather chemicals
Leather by-products
Leather production methods
Leather production equipment
Regulatory issue involved in leather industry
Safety issue involved in leather industry
Environmental issue involved in leather industry
Leather industry economics
Tannery waste management
Impacts of changes in leather products industries
C. Plastic Technology
Advancement in Plastic Technology
Properties and Applications of Plastic
Plastics Processing
Polymeric Materials
Natural Rubbers
Nanocomposites
Blends and Alloys
Advances in Chemistry
Mould & Product Design
Fillers and Additives
Recycling and Application Development
New Information on Thermoplastic Elastomers
New Plastics Resins and Additives for Films
Processing Methods and Equipment used in plastic industry
Characterization and Test Methods used in plastic industry
JoARGLPT are also interested in:
1) Short Reports – 2-5 page papers where an author can either present an idea with theoretical background but has not yet completed the research needed for a complete paper or preliminary data;
2) Book Reviews – Comments and critiques.
By focusing on the different research societies, JoARGLPT mainly targets researchers, scientists and engineers relevant to Glass, Leather and Plastic Technologies by communicating relevant and updated research papers that will assist them not only to learn from industrial but also help them to use various techniques to make new developments and innovations in these domains.