Journal of Advanced Research in Polymer and Textile Engineering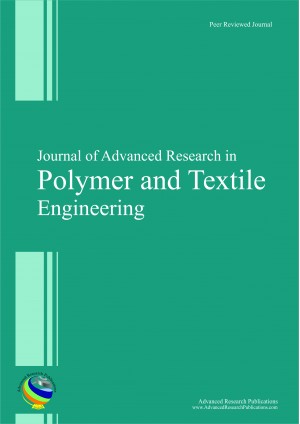 Bibliographic Information
| | |
| --- | --- |
| Publishing Year: | 2017 |
| Origin: | India |
| Language: | English |
| Readership: | Textile Industries, Fashion Designers, Environmentalists, Yarn Manufacturers, Designers, Research Professionals, Institutes, Dyeing Industries, CAD firms, Printing Industries, Handloom industries |
About the journal
Journal of Advanced Research in Polymer and Textile Engineering is devoted to the publication of original scientific research findings, methodological developments, and opinions in the form of original and review articles, brief reports, letters to the editor, proceedings of symposia, debates, etc.
The Journal mainly focuses on the allied areas:-
Polymer Engineering:

Polymer physics, Polymer Electronics, Polymer reactions, Polymer synthesis, Polymer Electrochemistry, Polymer analysis and characterization, Polymer composites, Polymer dispersed Liquid Crystals, Polymer processing and theology, Polymers for Energy Applications, Polymers at Surfaces and Interfaces, Polymeric Actuators, Polymeric Nanomaterials, Hydrogels, Ionomers, Monomers, Morphology, Optoelectronics, Polyelectrolytes, Polymerization kinetics, Nanocomposites, Nanostructured Polymers, Biological polymers, Magnetic Polymers, Ferroelectric Polymers, Optically Active Polymers, Shape Memory Polymers, Electroactive Polymers, Supramolecular science of polymers, Electrical and optical properties, Physical and mechanical properties, Structure-property relationships, Multiscale Modeling, Theory and Simulation, The Physics of Biological Systems, Application of polymers.

Textile Engineering:

Textile science, Textile engineering, Bio-textiles, Medical textiles, Textile composite materials, Nanotechnology in textiles, Apparel, Polymer, Fabric, Fiber, Leather, Yarn spinning, Recycling technology of textile products, Psychology on consumer for textile products, Marketing and use of textile products.