Recent Advances in Pathology & Laboratory Medicine (RAPL)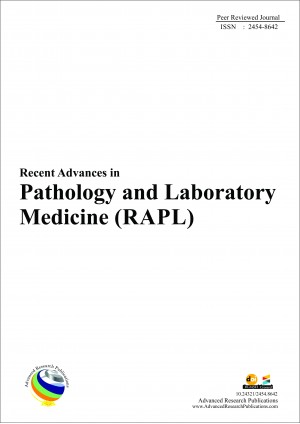 Bibliographic Information
| | |
| --- | --- |
| IC Value: | (2018) 77.96 |
| Publishing Year: | 2015 |
| Origin: | India |
| Language: | English |
| Readership: | Pathologist, Biologists, Gynaecologists, Medical Fraternity |
| Abstracting and Indexing Information: | Index Copernicus International, ISA, Google Scholar, DRJI, ESJI, Jour informatics, SIS, BASE, IFSIJ, JSTOR, Infobase index, OAJI. |
About the journal
Recent Advances in Pathology & Laboratory Medicine is a peer – reviewed Journal purely devoted to the publication of original scientific research findings, methodological developments, and opinions in the form of original and review articles, brief reports, letters to the editor, book-review, proceedings of symposia, debates, perspective & opinions and hypothesis for pathologists and laboratory medicines.
Scope of RAPL: Digital-Pathology, Virtual-Pathology, Tele-Pathology, Experimental-Pathology, Pap-Test, Cytology, Cytopathology, Histology, Histopathology, FNAC, Fluid-Cytology, Haematology, Leukemia, Immunology, Immunopathology, Investigative Pathology, Diagnostic Pathology, Epidemiology, Medical Education, Medical Research, Medical Information, Bio-Medical Ethics, Blood-Banking, Transfusion Meds, Oral Pathology, Molecular Pathology, Fluorescent in situ Hybridization, Flow Cytometry, Tissue Culture, Stem Cell Research, Onco Pathology, Scrape Cytology, Imprint Cytology, Bethesda classification and many other medical allied areas.
Journal attaches a special importance to articles sent by residents and under graduate students under the title 'Student's view'. The Journal aims to support medical students and their teachers for their professional development in all fields of Pathology, Laboratory Medicines and Transfusion Medicine. The Journal does not encourage publication of clinical trials or animal experiments.