Infopreneurs : Library Professionals Journal of RTLA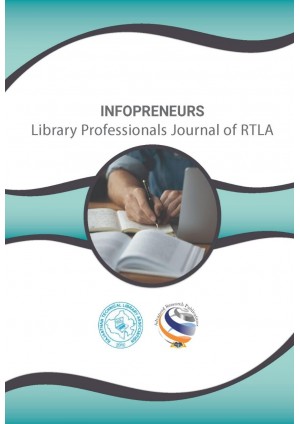 Bibliographic Information
| | |
| --- | --- |
| Publishing Year: | 2023 |
| Origin: | India |
| Language: | English |
About the journal
Infopreneurs : Library Professionals Journal of RTLA is a peer-reviewed biannual journal published by Rajasthan Technical Library Association (RTLA) in collaboration with Advanced Research Publications. The peer-reviewed process is double-blind.
This journal publishes research related to ideas, innovation, and solutions to various issues and challenges in information collection, organization, and dissemination in the library and information science field.
Information Collection, organization and dissemination is a core element of the library profession, all products and services are based on these core elements. A professional, who owns responsibility and specializes in acquiring, organizing, marketing, and disseminating the information are infopreneurs. Being a professional association, RTLA is responsible for providing a platform for infopreneurs to disseminate their created and acquired knowledge among their peers in the form of research work, articles, case studies, etc.