International Journal of Law, Human Rights and Constitutional Studies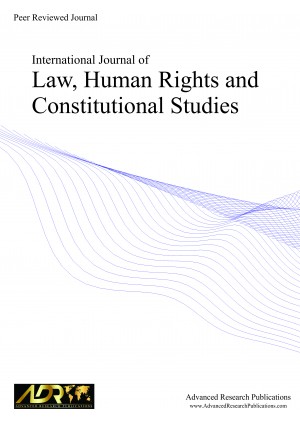 Scope of the Journal
Journal of Advanced Research in Law, Human Rights and Constitutional Studies (IJoLHRCS) aims at creation of a platform for educationists, lawyers, jurists and human right workers seeking innovative knowledge, developments, latest trends and solutions to current and upcoming challenges in relevant areas by sharing and discussing stimulating, latest and innovative articles focusing on high-quality research.
The scope of the journal covers research articles, review articles, methodology articles, short communications, case study/ case reports, research reports, monographs, special issues, editorials research articles, reviews, short communications and scientific commentaries.
IJLHRCS emphasizes on current economic and political crises, globalised democratic governance, human rights, public policies, the theory and philosophy of rights, comparative constitutional law and the methodology of law.
The journal publishes original papers including but not limited to the following fields: role, power and structure of government bodies; legislative procedure; philosophy of law;comparative constitutional law;constitutional rights;constitutional freedoms;conflict of laws relating to marriage, adoption, surrogacy and custody of children;colonialism and imperialism;democratic deficit theory; e-democracy; e-governance;emergent issues in international human rights law, equality and discrimination;globalisation and governance;gender and women's human rights;intellectual property rights/trading.
Indexing Information: ISA, DRJI, ESJI, Jour informatics, SIS, BASE, IFSIJ, JSTOR, Infobase index, OAJI.