Journal of Advanced Research in Journalism and Mass Communication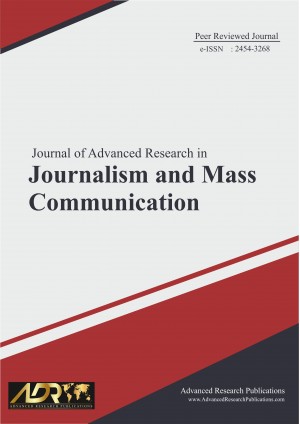 Scope of the Journal
Journal of Advanced Research in Journalism and Mass Communication (JoARJMC) aims at the development and application of traditional and contemporary knowledge in journalism and mass communicationby providing a forum for scientists, engineers and academicians and encouraging research for latest techniques, trends and rediscovery of traditional techniques that will assist in continual assessment of flaws and bringing about improvement.
The journal welcomes original research findings, methodological developments, and opinions in the form of original and review articles, brief reports, letters to the editor, proceedings of symposia, debates, etc.
The scope of the journal includes broadcasting, social networking, print media, movies, Internet, telecommunication, photography, advertising, news media, history, globalization, law, policy, risk, stigma, health communication, media management, ethics and marketing communication and allied fields.
Indexing Information: Index Copernicus International, ISA, Google Scholar, DRJI, ESJI, Jour informatics, SIS, BASE, IFSIJ, JSTOR, Infobase index, OAJI.