Journal of Communicable Diseases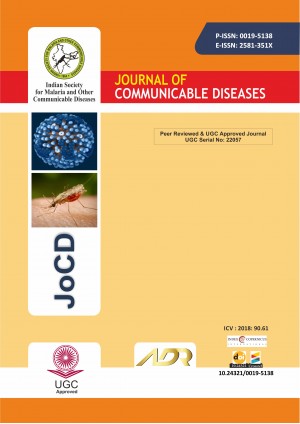 Scope of the Journal
Journal of Communicable Diseases (JoCD) (SCOPUS Id 22422) covers scientific researches in the field of communicable diseases and accepts articles with scientific excellence in the form of original articles include reports of trials, studies of diagnostic tests or surveys; and review articles presenting systematic critical assessments of literature and data sources. Please see structure for more details.
The aims of the Journal are:
To advance knowledge regarding the cause, prevalence, epidemiology, treatment, prevention and control of communicable diseases such as malaria
To stimulate scientific and practical interest among professionals, academicians common people and organizations in the prompt and effective application of treatment, prevention and control methods,
To disseminate such knowledge both to scientists and to the general public.
The journal publishes research on epidemiological/entomological diseases, focusing on causes, risk management, diagnosis, cure, and prevention of such diseases as are caused by micro-organisms like tuberculosis, ebola, malaria, hepatitis, rabies, diarrhoea, herpes, measules, shigellosis, zika, typhoid, meningitis, gas gangrene, leprosy, dengue, plague, polio, mumps, influenza, HIV/AIDS, and the like.
Patient Consent and Ethical Clearance: Patient identity should not be disclosed without prior consent of patient. All research on human subjects should follow institutional/regional ethical standards as well as the Helsinki Declaration of 1975 (Available at: http://www.wma.net/e/policy/17-c_e.html).
If patient identity is revealed anywhere in the article, it should be stated in text that patient consent has been obtained. It has been made mandatory for clinical trials from India to be registered with "Clinical Trials Registry – India" (http://ctri.nic.in/) since 2009. It is a free and online public record system for registration of clinical trials conducted in India.
Conflicts of Interest and Sources of Funding

Conflicts of interest include financial, institutional, personal and other relationships that might influence decision making. It is mandatory for authors to disclose all probable conflicts of interest in the manuscript. In case, there is no conflict of interest, this should also be clearly mentioned.
Also, author has to provide a statement of all sources of funding in the manuscript.
Conflict of interest and sources of funding should be declared before References in the manuscript.
Indexing Information: Index Copernicus International, ISA, Google Scholar, SCOPUS, DRJI, ESJI, Jour informatics, SIS, BASE, IFSIJ, JSTOR, Infobase index, OAJI,