Journal of Advanced Research in Medical Science and Technology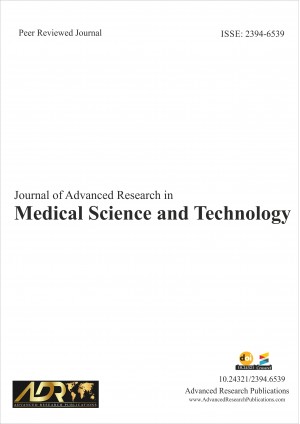 Bibliographic Information
| | |
| --- | --- |
| IC Value: | (2018) 67.48 |
| Publishing Year: | 2014 |
| Origin: | India |
| Language: | English |
| Abstracting and Indexing Information: | Index Copernicus International, ISA, Google Scholar, DRJI, ESJI, Jour informatics, SIS, BASE, IFSIJ, JSTOR, Infobase index, OAJI. |
About the journal
Editor in Chief:
Dr. B.N. Mishra
Professor, Community Medicine, Ruxmaniben Deepchand Gardi Medical College, Ujjain, Madhya Pradesh, India
Journal of Advanced Research in Medical Science and Technology (ISSN 2394-6539) is a Journal from bouquet of Advance Research Publications which dedicated to the latest advancement of medical science and technology,domain and publishes high quality theoretical and applied research ranging from scientific research to application development. JoARMST highlights the efficient and effective medical science and technology, and provides a central forum for a deeper understanding in the discipline by encouraging the quantitative comparison and performance evaluation of the emerging components of these domains.
JoARMST is a peer reviewed open access journal with a goal to provide a platform for scientists and academicians all over the world to promote, share and discuss various new issues and developments in different areas of medical science and technology.
JoARMST also emphasizes all prospective & applications of medical science and technology and promulgates both the original research papers and industrial experience-analysis studies and reports with a view to provide scholarly research in original research papers and real time innovations, development and advancement in different disciplines medical science and technology.
The Journal covers Research Articles, Review Articles, Methodology Articles, Short Communications, Case Study/ Case Reports, Research Reports, Monographs, Special Issues, Editorials research articles, Reviews, short communications and scientific commentaries in all the areas of medical science and technology. *Multidisciplinary types of articles are also encouraged in this journal which brings together articles from multiple technical backgrounds. The decision of the Editor-in-Chief to publish a paper in concurrence with sections editors and reviewer's opinion is considered final.
The journal publishes original papers on a fast track mode including but not limited to the following fields:
Focus & Scope:
Biomedical Sciences
Medical Imaging & Image Analysis
Medical Instrumentation
Tissue Engineering
Stem Cells
Biomaterials
Bio-MEMS
Reproductive Biology
Cancer Drug Design
Medical Statistics & Informatics
Nuclear Medicine, Radiation Therapy
Health Care Management
Disease Control and Prevention
Anterior cruciate ligament.
Active implantable technology
Electromechanical medical technology
Hospital hardware
Diagnostic technology
Implantable technology
Ophthalmic and optical technology
Technical aids for disabled
Diagnostic and therapeutic radiation technology
Complementary therapy devices
Biological-derived devices
Healthcare facility products and adaptations
Laboratory equipment
Communicable diseases, and their diagnostics and therapies
Brain Disorders & Therapy
Physiological State and Function
Hair Therapy & Transplantation
Cardiovascular Diseases
Cancer
Diabetes
Respiratory Diseases
Preventive & Community Medicine
Obesity & Weight Loss Therapy
Clinical trials, human genetic disorders
Traditional Systems of Medicine
JoARMST are also interested in*:
1) Short Reports – 2-5 page papers where an author can either present an idea with theoretical background but has not yet completed the research needed for a complete paper or preliminary data;
2) Book Reviews – Comments and critiques
3) Letter to the Editor
By focusing on the different research societies, JoARMST mainly targets researchers, scientists and engineers relevant to Medical Science and Technology by communicating relevant and updated research papers that will assist them not only to learn from industrial but also help them to use various techniques to make new developments and innovations in these domains.