Journal of Advanced Research in Medical Science and Technology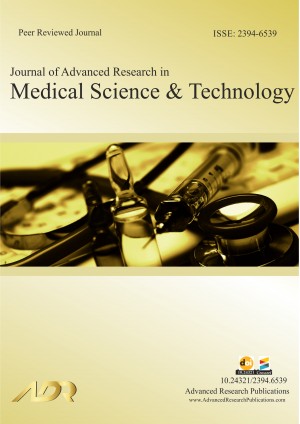 Scope of the Journal
ANNOUNCEMENT
We are introducing the best paper and best reviewer award of the year (2020 onwards). They will receive a printed and emblemed certificate and a medal. The panellist will be from the Editorial Board members headed by the Editor in Chief. The decision of the Editor in Chief will be final and abiding.
Call for Paper
We invite your original research/review/case report for publication in the upcoming issue of the Journal dedicated exclusively to the theme: Prevention of COVID-19.

Journal of Advanced Research in Medical Science and Technology publishes research articles, review articles, methodology articles, short communications, case study/ case reports, research reports, monographs, special issues, editorials research articles, reviews, short communications and scientific commentaries in all the areas of medical science and technology. Multidisciplinary articles are also encouraged in this journal which brings together articles from multiple technical backgrounds. The decision of the editor-in-chief to publish a paper in concurrence with sections editors and reviewer's opinion is considered final.
The journal publishes original papers on a fast track mode including but not limited to the following fields:
Biomedical sciences
Medical imaging and image analysis
General Surgery
Medical instrumentation
Tissue engineering
Stem cells
Biomaterials
Bio-MEMS
Reproductive biology
Cancer drug design
Medical statistics and informatics
Environment related health and technical problems
Nuclear medicine, radiation therapy
Health care management
Disease control and prevention
Anterior cruciate ligament
Active implantable technology
Electromechanical medical technology
Hospital hardware
Diagnostic technology
Implantable technology
Ophthalmic and optical technology
Technical aids for disabled
Diagnostic and therapeutic radiation technology
Complementary therapy devices
Biological-derived devices
Healthcare facility products and adaptations
Laboratory equipment
Communicable diseases, and their diagnostics and therapies
Brain disorders and therapy
Physiological state and function
Hair therapy and transplantation
Cardiovascular diseases
Cancer
Diabetes
Respiratory diseases
Preventive and community medicine
Obesity and Weight Loss Therapy
Clinical trials, human genetic disorders
Traditional systems of medicine
Article processing Charges: INR 3000/- (US $120/-), to be paid only after a formal mail for publication acceptance has been received by the author. Discount and fee waiver is available for authors from low-income nations listed by World Bank to support research in these countries. There is no submission or publication charge. Article processing charge can be paid within 3 days after publication acceptance through GooglePay/phonepe/paytm@ 9810116442 or through NEFT:
NEFT Details:
Bank Name: Bank of India
Bank Location: Indirapuram, Ghaziabad
Account Number: 712325110000003
Account Type: CC Account
Account's Name: Advanced Research Publications
IFSC: BKID0007123

Address: LG-37, Arora Shoppers Park, Shakti Khand-II, Indirapuram, Ghaziabad-201014, U.P, India.
Indexing Information: Index Copernicus International, ISA, Google Scholar, DRJI, ESJI, Jour informatics, SIS, BASE, IFSIJ, JSTOR, Infobase index, OAJI