Journal of Communicable Diseases (JCD)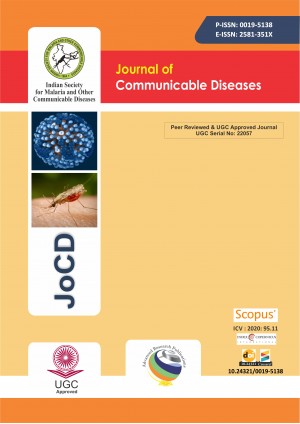 Bibliographic Information
| | |
| --- | --- |
| IC Value: | 2021 : 100.63 |
| Origin: | India |
| Language: | English |
| Readership: | Microbiologists, Veterinary Physicians, Entomologists, Physicians, Epidemiologists, Public Health Specialists, Vectorologists, Animal Husbandry, Environmentalists, Doctors of Alternative Systems of Medicine |
| Abstracting and Indexing Information: | Index Copernicus International, ISA, Google Scholar, DRJI, ESJI, Jour informatics, SIS, BASE, IFSIJ, JSTOR, Infobase index, OAJI. |
About the journal
Journal of Communicable Diseases (JoCD) (SCOPUS Id 22422) covers scientific researches in the field of communicable diseases and accepts articles with scientific excellence in the form of original articles include reports of trials, studies of diagnostic tests or surveys; and review articles presenting systematic critical assessments of literature and data sources. The aims of JoCD are:

To advance knowledge regarding the cause, prevalence, epidemiology, treatment, prevention and control of communicable diseases such as malaria

To stimulate scientific and practical interest among professionals, academicians common people and organizations in the prompt and effective application of treatment, prevention and control methods,
To disseminate such knowledge both to scientists and to the general public.
The journal publishes research on epidemiological/entomological diseases, focusing on causes, risk management, diagnosis, cure, and prevention of such diseases as are caused by micro-organisms like tuberculosis, ebola, malaria, hepatitis, rabies, diarrhoea, herpes, measules, shigellosis, zika, typhoid, meningitis, gas gangrene, leprosy, dengue, plague, polio, mumps, influenza, HIV/AIDS, and the like.